I like to call myself a multidisciplinary designer and that is because I do brand identity design, product design and graphic design. Design is something that I truly enjoy and it isn't just about the aesthetics, it's about creating beautiful things out of nothing, about creating solutions to problems. It's fascinating. It gives me a special kind of joy when I'm able to solve a problem in design.
When I'm not working, I am nurturing my unhealthy addiction to Twitter. I also enjoy listening to music every day. I love Electronic Dance Music because of how energetic it makes me feel. I also enjoy reading; from fiction to biographies to design books.
And I am probably not the best person to watch a movie with, because I love to give commentary when watching a movie.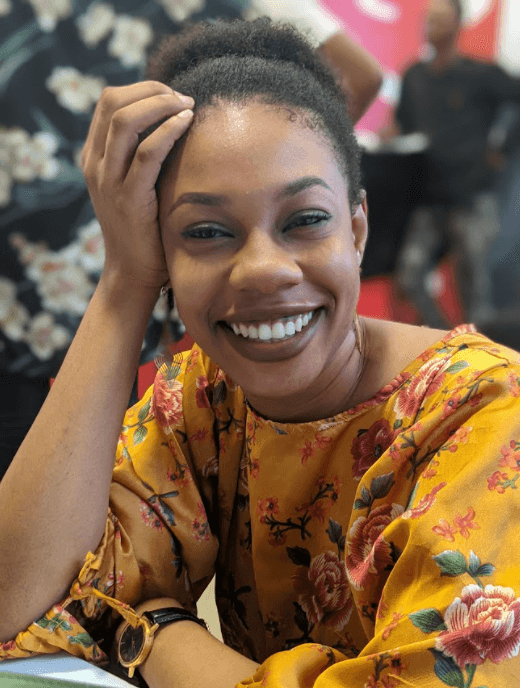 Beginning as an Economist
We used to live in Lagos, in fact, I spent my primary and secondary education in Lagos before my family moved to Umuahia. After moving, I got into a private university to study Economics. The plan was to go to school, study and get a job. I didn't really have any interests outside of school. But, I had this roommate who was into graphic designs; she was a mass communication student and would sometimes make designs for shirts and print them. She used to invite me to the printing press she used and it was quite fascinating. Still, I didn't actively pursue graphic design till sometime after my 300 level.
At 300 level, my family went into a financial crisis and I had to return home. I couldn't move on to the final year with my mates. Not wanting me to waste a year at home, my mum suggested that I learn some sort of skill. I thought about what to learn and later decided on learning graphic design.
There was a printing press at the end of my street and my mum tried to get me an apprenticeship there but the owner was not interested in teaching me. Eventually, we found another printing press and the man took me in. I was mostly running errands, buying printing paper and all that. I knew nothing about graphic design and wasn't able to contribute to the resources of that press but, I was there for a couple of months and it was interesting. After a while, I told my mum I wanted to go to a proper computer school where I would learn graphics.
 Learning Graphic Design
We found a computer school and mum paid about ₦30,000 for it. I was to learn CorelDRAW, Photoshop and fireworks or something like that. I also tried my hands at JavaScript and HTML before realising that JavaScript was not for me. My main focus was on CorelDRAW and Photoshop.
The school provided a formal background in design for me. Meeting other students, staff, learning from them and seeing the designs they created from Photoshop was so fascinating. I forgot about Economics.
To add to my knowledge, I watched a lot of YouTube courses. I would reach out to other designers on Twitter while posting my designs on Instagram. I started freelancing; people loved my designs on Instagram and would reach out to me. I remember charging ₦5,000 for the first logo someone asked me to design. In fact, my first major gig came from Instagram.
Discovering Product Design
An Instagram friend recommended me for the job and secured an interview for me. I passed the interview and got the job. I was to be the Art Director at an advertising firm in Lagos.
I was working on advertising materials, stamping materials, doing all that stuff. I was meeting more people on Twitter, people from different walks of life and also some product designers. And because I am quite an inquisitive person, I showed interest in their works and allowed them to pull me into their projects. It was all so interesting and I was getting really fascinated by Product design
In all honesty, I was enjoying my job at the firm, but I was also at the point where I felt like I needed something more exciting. I really wanted to try my hand at Product design so, I tried combining my work and learning. It didn't work out, there was just no time to merge the two. That was when I decided to leave my job.
Transitioning
It was in the middle of the pandemic, my boss tried to dissuade me; she didn't think it was the right move to leave a job to study, but I had my mind made up. I left and registered for a course on Interaction Design Foundations. I took some courses there to build my UX. I had some ideas on UI, so it was easy to watch YouTube videos and build on that foundation. I tried to balance my UX and my UI learning.
I also learnt a lot by working with my friends on their projects. I felt that it was important to bridge the gap between theory and practicality, to experience those things that I couldn't learn from books and courses. I wanted to see how making design decisions were, what it meant to work with stakeholders, all those little things that my courses were not telling me about. Working with my friends exposed me to all of those. Sometimes we would have a particular challenge that we would have to brainstorm around, trying to see how feasible this is. There was the part of working with engineers. My course wasn't telling me about working with developers. So, getting that real-life experience really helped me a lot.
Thankfully, I had an understanding of colours, contrast, and the likes. So, coming into product design just felt like having a different application for something with the same foundation. I was merely transferring what I already knew in my graphic design background to product design. Also, my days in advertising, watching adverts, brainstorming and advertising campaigns, sharpened my design thinking sense. I was bringing all of those experiences into product design.
First Job as a Product Designer.
I didn't really feel confident when I set out into Product Design so, I was not on Instagram like before. I wasn't putting myself out there as I did as a graphic designer. What I did instead, was reach out to designers and ask to be included in whatever project they had going on. And then, I took to posting on LinkedIn. I'd read an article and post a review on my page.
Someone reached out via LinkedIn eventually. He said he was looking for product designers. I told him that I had only about four months of product design experience yet he encouraged me to apply. I applied and got the job.
Challenges
I'll say the major challenge that I had was not knowing how to start. Even though I knew some product designers, I didn't know where exactly to start. And I wanted to make sure that anything I was learning, I was learning it well, not just on the surface but also the basics, the foundation. That was a huge problem for me to be honest.
That's why I am grateful to the person who tweeted something about the Interaction Design Foundation. It served as the structured learning I needed. I was able to document my progress and find a roadmap; going from point A to point B and measuring how far I had gone.
On Mentorship and Community
I had a mentor, in fact, he is still my mentor. One can say that I followed his path because he was a graphics designer and then went into Product design. So, whenever I had any roadblocks, he would give me ways to go about it based on his own experience. He was also the one that impressed on me the need to learn product design from the foundation. He made sure that I didn't just focus on designing screens, but that I learn the basics; Learn that when you have an idea you need to validate the idea, you need to do Product research; you need to do all those background work before you get the design except you want to be a UI designer which is okay. But if you want to be a product designer you need to understand the grassroot which is how these things work. I'd really say that mentorship really helped me. 
There are different design communities but I can't really say that I belong to one. I think it's because I'm an introvert. But I have friends who belong to some of these communities and I sometimes draw inspiration and help from them so, I'd say those friends are my own community.
Something to Reflect On
I wish I wasn't scared of sending random emails and Twitter Dm's to people. I wish I wasn't scared because the worst I could have gotten was a no. I wish I did more and exposed myself to different things.
Design Thinking + Design Prediction
Design thinking, to me, is a process that seeks to solve complex problems in a human-centred way. It focuses on using a practical approach to finding solutions to human needs and challenges. These solutions have to be technically feasible, economically viable for the business and also desirable for the end-user.
The process of design thinking revolves around empathizing with users, identifying their needs and defining these needs as problem statements. Then ideating on solutions, creating a prototype of the solution(s), testing with users to get feedback, and iterating based on feedback. It should be noted that this process as a whole is iterative and not strictly linear.
When it comes to the future of Design in Nigeria, I believe that in the next ten years, companies and even individuals will begin to understand the role of product design. They will recognize product design as a tool for solving problems and not some personal preference of the company or department head. It will focus solely on users.
I also see a future where we'd begin to have different specialities. We'll see companies hiring researchers and Interaction designers. So we won't have one person trying to do everybody's work.
Necessary Skills for Product Designers.
I'll say every Product designer should fall in love with problem-solving. It is important to be able to focus on the problem, understand the problem and also understand the people that are affected by the problem.
Another thing is curiosity. A good product designer should stay curious, keep asking questions, and avoid making assumptions. It is also not enough to just ask questions; designers must probe further. The quality of the solution you get is almost as good as the quality of the question you ask.
(Not So) Controversial Design Opinion
I think designers should have an understanding of how code works. Sometimes, having an understanding of how code works helps shape the kind of designs that we do. Sometimes I design stuff and the developer would say it isn't implementable on the backend. So, if a designer has an understanding of how code works, I believe it would make the designer a better one. I'm not saying that they should write code but if they can try to have conversations with developers, try to learn from them and also try to understand what happens after the design is done, I believe it would help improve the quality of our designs.
 Favourite Design Tools + App
I use Figma, Adobe Photoshop and illustrator because they are easy, versatile, intuitive and simple to use.
And of course, I love Twitter because it helps me connect with a lot of people. Especially because I'm an introvert, I don't need to leave my house to network and meet new people.
Design Inspiration + Heroes
I draw inspiration from Awwwards.com, Behance and Dribbble. I also enjoy checking out and signing up on random but relevant products I see on producthunt.com
My design heroes are Chris Do, David Airey, Praise Philemon, Paul Kelly, Mosope Adebowale, Chukwuka Ezeoke, Mudia Imasuen,
Advice for New Designers
I'll say, first of all, they should register for a course. YouTube is great but they should register for a course; there are some free courses that give a sort of curriculum or course outline, it might not go in-depth but it touches on everything. With a curriculum, it is easy to measure and track progress.
Secondly, I will advise that they try to actively work on a fun, personal project. Pick a problem around you and try to solve it. The goal is not for perfection, the goal is to implement all that they have learnt over time using that project. This helps one see how theory applies to real-life situations and helps one develop that problem-solving ability every designer should have.
Another addition to that is that when they were successfully done with a project, they should write a mini case study. It's nothing technical, it just shows how the problem was identified and solved.
I'll just add that a good designer should embrace the act of reading because they'll get to a level where the YouTube videos will not be enough. Also, I'll say personal development is a designer's responsibility, nobody's going to be concerned about your career more than you.