Namnso is a Product Designer at Flutterwave with a background in Physiology from the University of Uyo. When he is not designing, Namnso enjoys curating opportunities and resources for new designers. He also sketches outdoor wear and hopes to one day own a clothing brand.
I trained as a Physiologist. But back when I was in school, I applied to be the customer support for this travel agency. Part of the job requirement was to do designs, which when I think about now, it's quite crazy. 
I first started out using Microsoft Paint and it was really difficult to use. But then a friend saw me struggling with it one day and introduced me to CorelDRAW. He showed me how to draw a square, a circle and how to bring in images.
By exploring CorelDraw, I learned of other tools I could use like Photoshop and Adobe Illustrator. Adobe Illustrator was pretty tough to learn for me, because I spent the most of my time and resources trying to learn that tool and I still don't know how to use it. I used to travel from Uyo to Umuahia (84.5 km) to meet a friend of mine just to get some learning videos in a flash drive and then go back to Uyo, but I still didn't learn how to use the tool. I just ended up abandoning the whole idea. The most I used it for was to import a vectorized resource in Adobe illustrator format and then export it as SVG or CorelDraw.
CorelDRAW was therefore my go to tool. It was just so easy to take an SVG file and import it in different formats or even play around with the vector. I didn't know it at the time, but I was already on the design path.
Switching To Tech
Post-graduation, I spent about a year working as a Clinical Measurement Scientist at Calabar Teaching Hospital. At that time, my in-law Celestine started asking questions like "what do you want to do with your life?". I was astonished because I felt I was already getting started with my career but he saw things differently. He eventually convinced me to attend a GDG event in August 2016. 
The GDG program had interesting speakers and I got to meet people like Aniedi. The event opened my mind to the different areas of Tech and I decided to pursue a career in Tech. Still, I didn't start with design, in fact, I was trying to go into tech via the front end developer route and it was difficult. I would spend three hours trying to write a couple of lines of code and then it'll not run.
Eventually, I moved to Lagos & joined the Hotels.ng internship program. This is where everything started connecting for me. It was a competition with 3000 other participants with weekly evictions. Within the program, I connected with people, made friends and built the network of people that I still depend on till this day.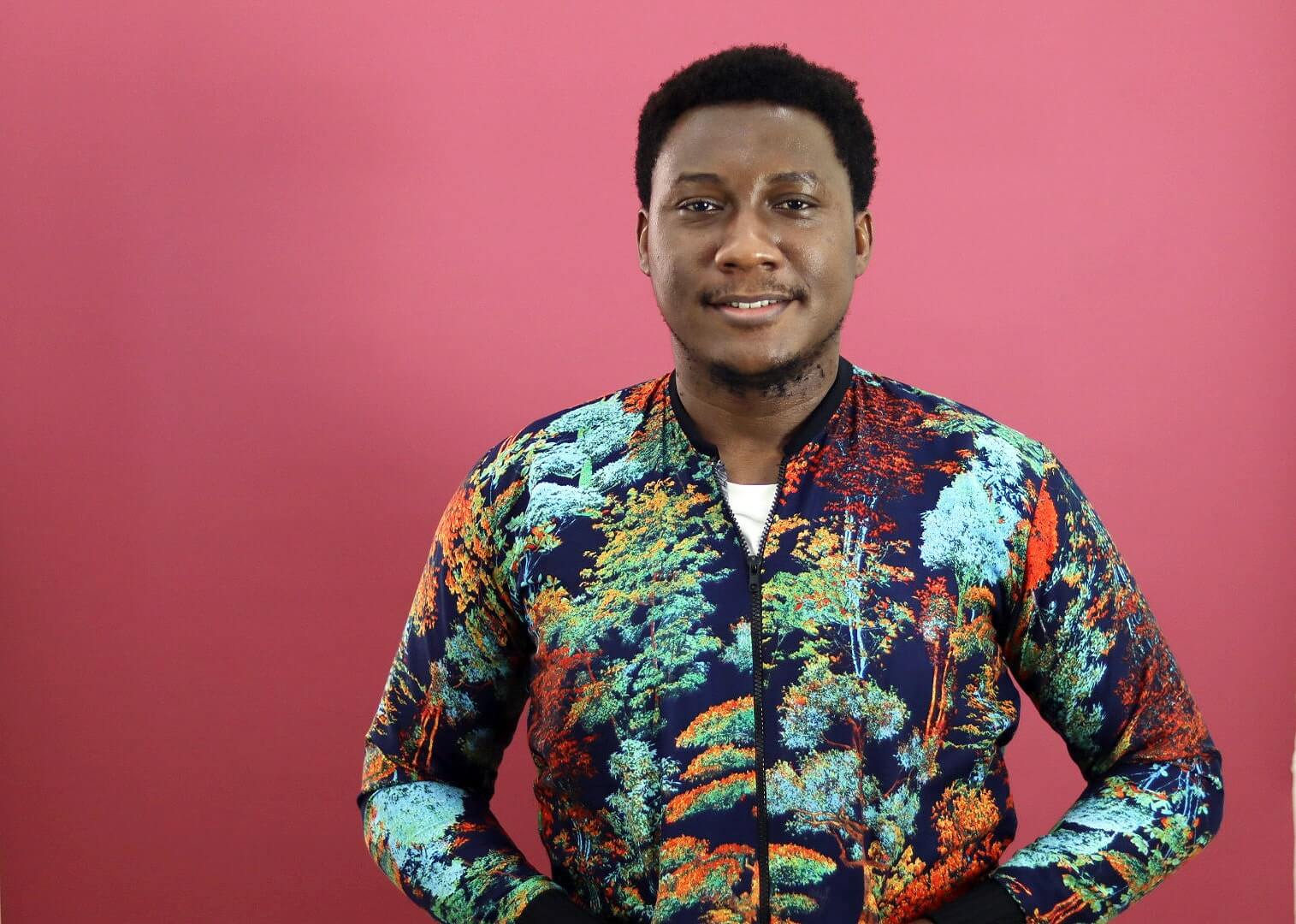 The first gig
At the end of the program, I think we were 13 people left from 3000, including two designers – a designer named JK and myself. We were working on different product ideas with the Mark Essien. At some point, Mark reached out to me and asked if I wanted to work on Hotels.ng designs as a Contractor. I took the offer and eventually joined as a full time employee. He offered me quite an impressive amount, but Celestine insisted I could negotiate for more. I was scared to ask for more, I won't lie, I thought Mark would feel that I was being ungrateful but I asked anyway. Mark agreed and asked me to start immediately. That was how I got employed as a Designer.
Present Day Namnso
I work at Flutterwave as a Product Designer. I lead the team responsible for its flagship product and business merchandise called Rave. It is what people refer to when they are interacting with Flutterwave and I'm responsible for that on the design side. When someone goes to flutterwave.com and they click on sign up, everything they do when they click on that sign up right up to when they make their first transaction or they receive their first payment, that's on me.
I'm also responsible for Payouts. Payout is the part of the product focused on helping the merchant move money from their Flutterwave dashboard to a bank account.
Aside from my day job, I'm really into outdoor wears; like jackets, hoodies, and headwear. I enjoy sketching and creating them. Hopefully, I get to have an actual brand where I can put my ideas to life someday.
My WFH setup
I love that my workspace is simple and straight to the point, only the basics and nothing extra on it, though (cable management is still crazy as I recently rearranged my room). I use a Samsung UHD 28′ monitor, which is positioned on a Kilibri wooden monitor stand, then there's my MacBook and iPad. Special mention is my ergonomic chair to help my back.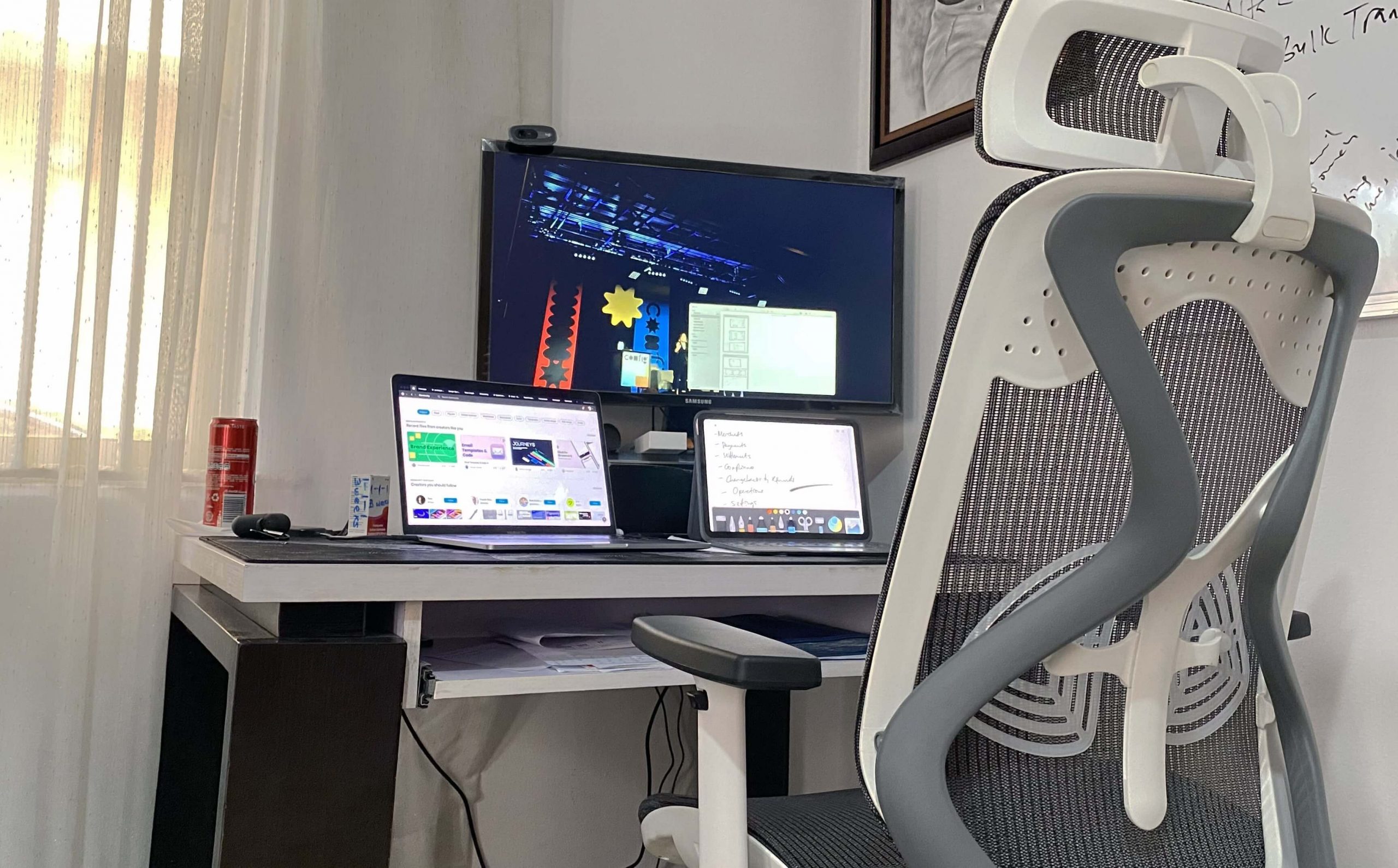 Figma Africa
With Figma Africa, I work with a team that trains newbie designers and nurture them till they establish themselves. Our main focus has always been on design education, making people aware of the opportunities that exist in the design. 
Kimoyo
My co-founder Mariam & I started Kimoyo back in 2018. We took all of the things we were doing at Figma Africa in cases of design education and then formalized and grew. So instead of trying to make sure we train as many people as possible, we focus on training a few people who will come out to be the best. COVID-19 made us go virtual even though it was supposed to be a physical fellowship, but it has helped us reach more participants.
How I design
My design process is the one part of my career that has evolved over the years. Oftentimes I can be as theoretical as possible, but when we have to deliver a design in a short timeframe, the process goes out the window and I just jump right into the work. The 'Double Diamond Process' is my favorite design process. The way it's structured is, that at every point in time, it leaves room for feedback in a way that still carries the original idea to the finish point.
Feedback & Criticism
I assume ownership of whatever I am working on & I try to pass that sense of ownership to my teammates when I am trying to give feedback or critique a design. These days, my biggest challenge is giving feedback to my teammates. I'm a really direct person, so I might not start dancing around the bush, but at the same time, I've also been on the other end where I've done a design and someone didn't like it. So, I try to give feedback in a way that positively gives direction. I also try not to influence their design decisions with my thinking. Just because I like to do things a certain way doesn't mean they should do it that way so when I'm reviewing, I try to ask them as many questions as possible in a very polite manner.
In my organization, we often have design critique sessions. It's an opportunity for people to show the stuff they are working on and to get feedback from their peers. I try to present my work at every crit session so people can go through it, give feedback or thrash it – if need be. The more you throw at it, the better it gets at the end of the day. This now makes it easier for me to now go out there and say, this is what we've been working on, knowing that whatever feedback people might probably have, we've already worked it out.
To ensure the feedback is constructive or prevent people from going off on a tangent, I try to limit the scope of the feedback to a specific path.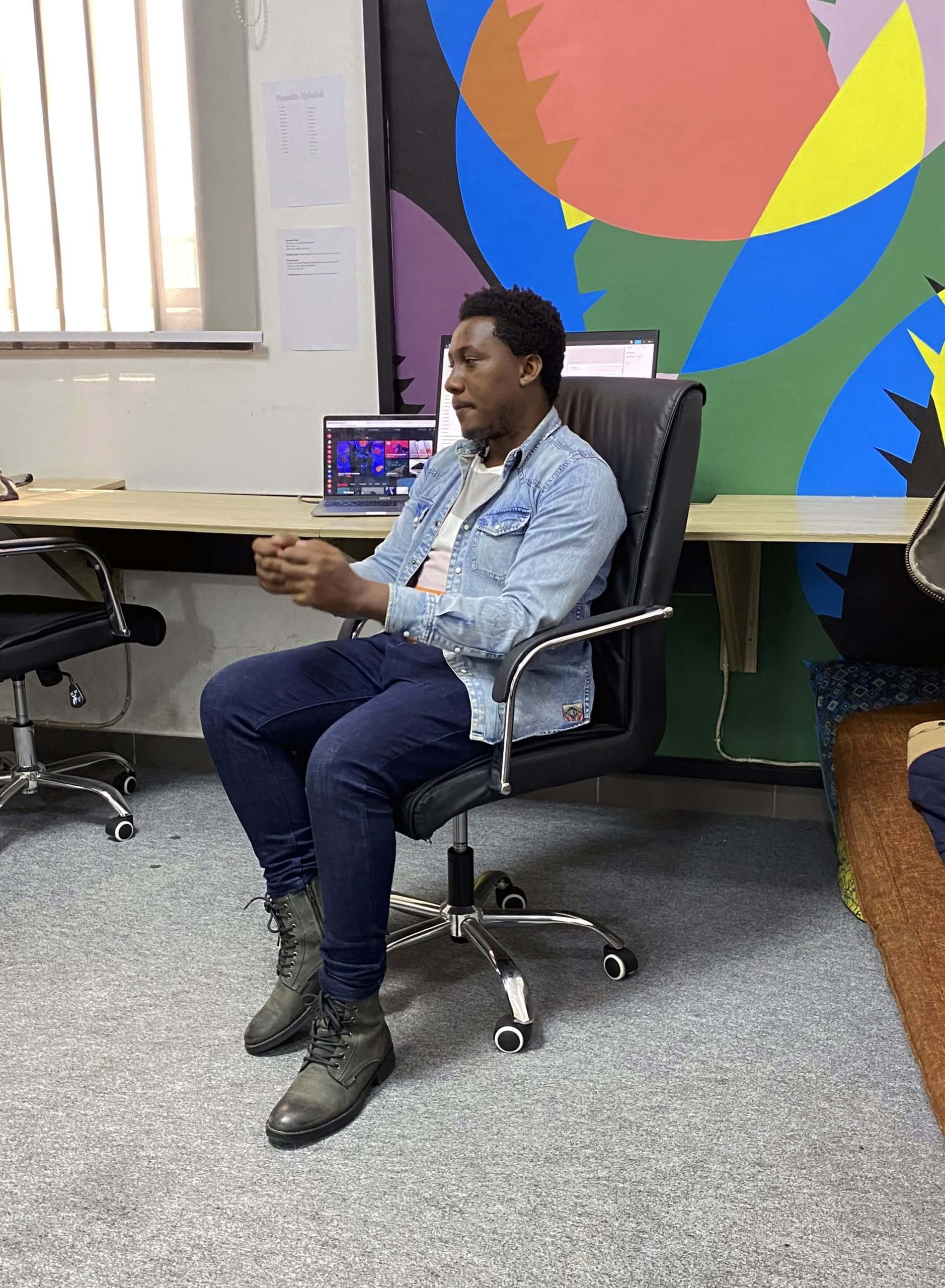 On Community and Networking
When I look back at the early days when I would ask people around me for video courses on CorelDraw or look for people who had an internet connection at the time to help me download the videos for free, I realize THAT was a Community.
Moving to Lagos, joining the Usable meetup which was not far from Hotels.ng really helped me. Last Thursdays of the month were particularly interesting because we'd make our way down to CcHUB for the meetup. This was where I really made designer friends and my first real concept of community. I remember that the first time I attended, I was trying to absorb as much as possible from the meetup. Then the next month, I was super prepared, I was already looking at the Twitter page trying to see what that particular section would be about. I remember asking a question because I was very eager to contribute just as much as I was learning from all the people around me. I still remember the photo they took of me while I was asking a question, I felt like a part of something amazing. So, that's one part that played a significant role in how I got to evolve in my career.
Just by being there, seeing what was being discussed, asking questions, and also being able to contribute helped a lot. I realized that contributing the little I knew helped people relate with me and helped me share my problems and find solutions to things I was struggling with. The community gave me that, and I am forever grateful.
But networking didn't really come easy to me because I am an introverted person.  If someone doesn't say hi to me, I wouldn't say hi to them. However, I was able to share my thoughts and processes on medium and I slowly started to get claps. It was all the validation I need, knowing that someone somewhere was benefiting from me and I didn't really have to put myself out like that.
Favorite designers & products.
I believe this translates to designers whose work and processes I admire because I have been privileged enough to work with many notable designers. I'd start with Mariam Braimah for all of her work at Netflix and Kimoyo, plus she has a unique way of gaining understanding. She does not stop until she gets it. Then there's Nemi Banigo, whose constant pursuit of design excellence is equally inspiring and annoying.
My favorite app is currently Pinterest. I love how inspirational it is. Just select a Pin and scroll away. It is like a giant mood board of all of my favorite aesthetically pleasing things
Advice for New Designers
At the start of my journey into design, I skipped a lot of stuff because I focused on learning what I need to know, to use a particular tool. So, my advice is: learn the basics of everything. Learn the basics of typography, grids, and colors. Learn those stuff that people refer to as foundational knowledge before getting into more complex stuff.
I will also add that for someone starting out, they should try to find something that gives them an edge. So, apart from being comfortable and always trying to explore, finding that stuff that gives you an edge above everybody else.
Also, learn to talk about your work. The more you talk about something, the more you get to learn, and the more you tend to become an expert in that area, which makes people reach out to you a lot more on ideas or solutions about that particular topic.