I live a pretty simple life, except for the part where google insists my name must be spelled as 'Greatt'.
Great, the Introvert
I am somewhat of an introvert, or an ambient, so to speak because I genuinely enjoy being on my own. But there's the part of me that also enjoys the company of those I like, so it is a constant struggle between those two parts of me.  I like playing games; I buy a lot of games but somehow always end up playing only FIFA.
I struggle through movies, TV shows and stuff. I wish I could watch more movies but thankfully, my sister doesn't let my Netflix subscription go to waste. 
Then there's music; I like music a lot. I also like to produce music sometimes in my spare time. I used to do it publicly, I used to release music before but since I started working, I just make it for myself and I don't share it.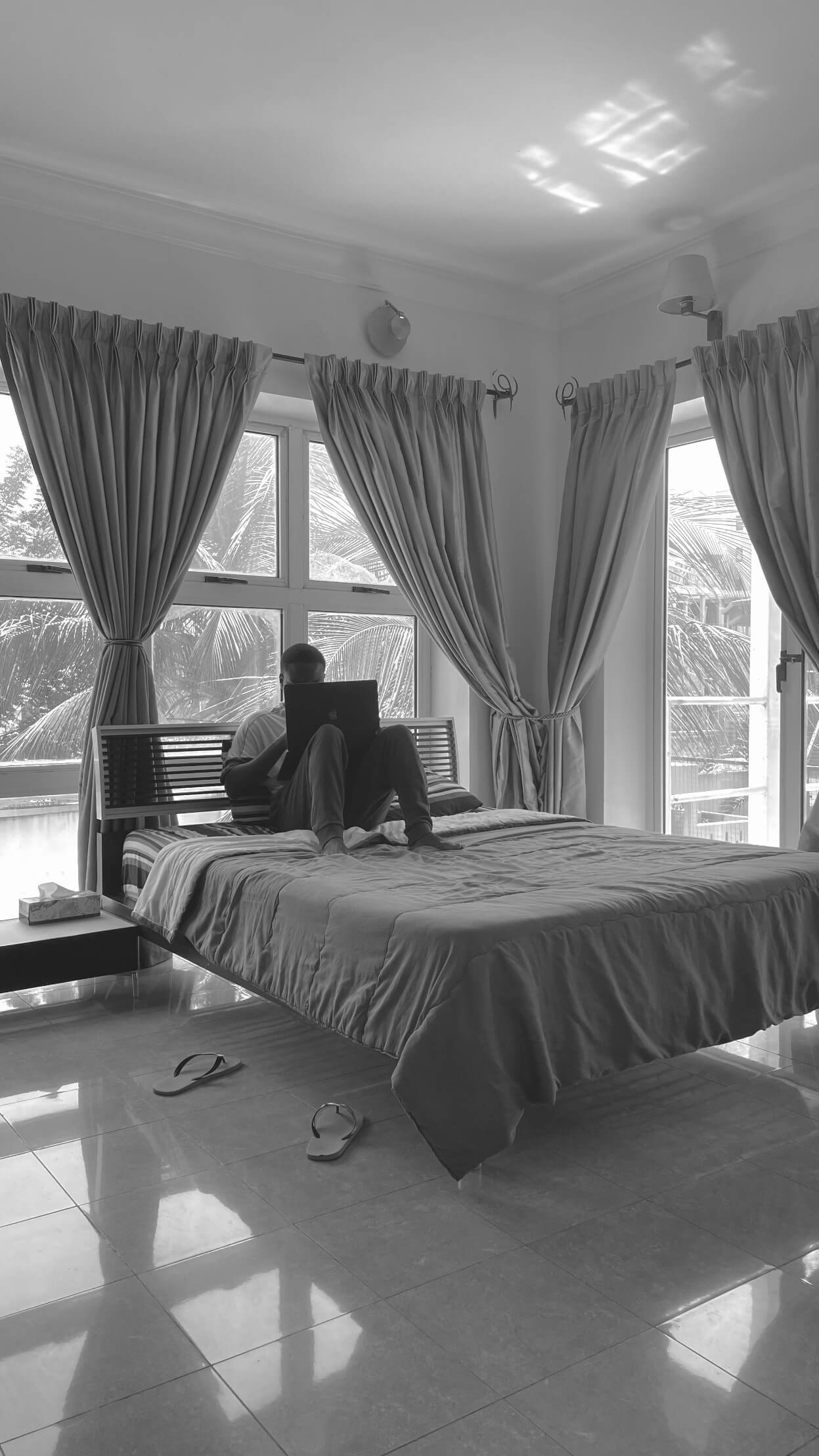 Music, The Pathway to Design
I have always considered myself a creative person with a strong interest in music. In fact, between secondary and tertiary education, I took a two-year gap where I wrote a lot of songs and poems. It was at this time that I found a software called PhotoScape (a super light version of photoshop) on my dad's computer which I used in creating cover designs for my songs. When I eventually got into the University of Port Harcourt to study computer science, I started to design cover arts for other students' music and was charging about ₦5,000. But PhotoScape had its drawback; it was impossible to edit with it, so I had to explore other apps and also took up programming at the same time, learning Java and swing.
Becoming a Designer
Although I didn't realise it then, I was building a career in UI. I considered it a coat of painting on programming and just enjoyed making things look good. I was doing impressive stuff with the interface of stuff I did on Java, and there was swing which I loved so much.  It was at this time of my life that a lecturer in my department reached out to me, he was putting a team together for a personal project and he wanted me for my UI skills. That was in 2014, and the first time that I considered myself a designer. It was also the year I discovered Dribbble, bare hands and some Nigerian designers excelling in UI.
Discovering Nigerians that were excelling in their design career was all I needed to improve my art. I started learning to use Photoshop. It was very tough at first, and at one point, I considered giving it up but I persevered. So, I used Photoshop to create logos, I would imitate works that I saw on Dribbble and practise them. I had also graduated at this time and was trying to put together my portfolio. This was when I saw an ad for a designer on Facebook. It was put up by Victor Fatanmi. They wanted a brand designer, and I was more about product design, I applied nonetheless and got the job. This was around April 2016. I was to resume as a FourthCanvas staff and was required to move to their base in Lagos.
Moving to Lagos and Upskilling.
Moving to Lagos turned out to be a life-changing decision for me and it wasn't just about the job that I got. I moved in with my friend and began work at FourthCanvas for ₦30, 000. I believe relocating was what changed everything for me and I can't quite place my finger on why, maybe it was just something about the atmosphere; a feeling of ambition that surrounded everyone in Lagos that propelled me to grow. People were pushing boundaries in the design and tech space; Paystack was just coming up, FourthCanvas was doing something with TFA (The Future of Africa) and Credital and I was being exposed to opportunities and people who gave me a broader outlook on the possibilities that UI came with.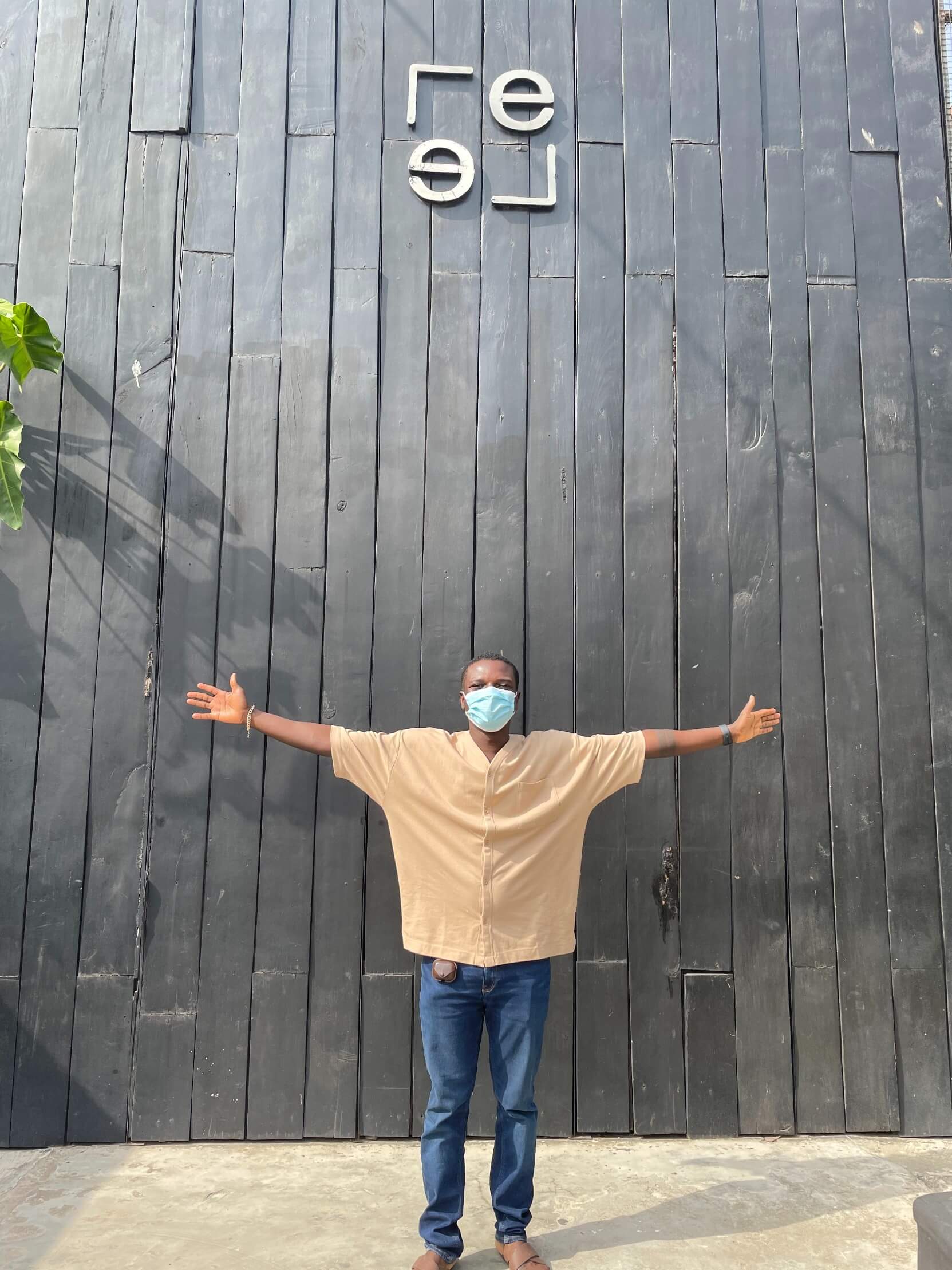 While everything was rosy at FourthCanvas, I started to feel like I was not where I wanted to be. They were keen on trying to solve branding problems whereas I wasn't. The opportunity came for me when FourthCanvas decided to move to Akure just three months into my employment. I decided to resign instead and once again, was an unemployed young Nigerian.
Faced with my recent unemployment, I created a better portfolio and applied for a job at Credital. The interview did not go well, I did not get the job. Instead, I got a freelance gig off of Instagram. The job was posted by Oluwafemi Coker. It was a product job in Lekki; they were building something about a rescue system. He said they had already done most of the work and just needed someone to patch it up, he then asked what I would charge. I didn't know much about charging for my work at the time, I guess I was just interested in learning. We ended up settling for ₦40, 000 a month. I later realised that the lowest-paid designer on that team earned about ₦120, 000, it was such a shock!  
The gig held my interest for a while, but I got dissatisfied with the hours I had to work, and the hours I had to spend in traffic. I only spent two months with them and refused to extend my contract. I like to believe that it was a learning point for me; it helped me realise that I can't function when I am unhappy or uncomfortable.
So, once again I found myself unemployed. I was going through Instagram one evening when I came across Bovi's talk at TedEx Gbagada. There and then, I decided to volunteer with TedEx Gbagada and design an app for them. I hate to brag but it was one of the best apps I ever created if I do say so myself. One of the TedEx sponsors noticed the app and approached me with a job offer at his company. That sponsor was Femi Taiwo, he was initially looking for people to work with Wema Alat. The job description involved a bit of customer service and I was not comfortable with that.
Eventually, I was interviewed by Innit to work on a full product, to work with iOS developers and Android developers. My earning moved between ₦180, 000 and ₦220, 000 a month. I had finally arrived and successfully moved to product design.
Challenges Faced
One of the challenges I faced was trying to adapt to change; things like changes in work hours, and workspace, get to me. Yet the biggest challenge perhaps was having to deal with impostor syndrome; I felt very unqualified and not good enough for the jobs entrusted to me even though I excelled at all the tasks.
Another thing was switching rules; moving from being a product person to logos and then to office life… adapting to all that switch was tough.
Design Process
At Spotify, I do not particularly have a design process. But I generally approach a design project by generally having and recording brief conversations around what we are trying to solve. I like to speak with the person(s) I am working for/with to get clarity on what exactly we are doing.
After the conversation, the next thing I do is usually source for what is similar products and see where people have succeeded or failed because I believe there's almost nothing that you're trying to build that hasn't been built in some variation before. So, I search through people's websites about the stuff they have built or even random concepts on Dribbble or bare hands and things like that. 
After seeing all that stuff and sometimes if necessary, I speak to the client or the team I'm working with. I sometimes show them the stuff I've seen online and get their opinion on what I have gathered. And then from there, distil everything down to what I want to go into. I think that the professionals call it requirements gathering or something. 
I then write every single detail down.  And that's when I start preparing to work on a board; I find myself always using Canva for this kind of thing because, when I used Canva for the first time in 2018 or something, it sort of stuck with me. It just worked. So when I've done all the requirement gathering, the next step for me would be to put everything down, create a backlog to a to-do list.  
Then from that point, I start picking stuff up and the next point for me will be to draft things out. This could be in two ways. Very, very rarely, it comes in the form of wireframes, other times, I actually go to sketch and start putting the things the way they would be together because I like designing in colours. I like designing something that looks almost finished because it gives me the motivation to do it more. 
One of the reasons I started designing was I like to make things look good. I think of the functional part of it, but also want to make it look good. And then I move on to the early stage of validating. 
After validating, I then like to bring users into the mix to test. If it's an app, we give people to try it out; some things will work, some will fail.  So then we put a stopper, try to make the corrections, then iterate again. So, it just boils down to circling around the last three stages between making it again, testing and iterating before shipping.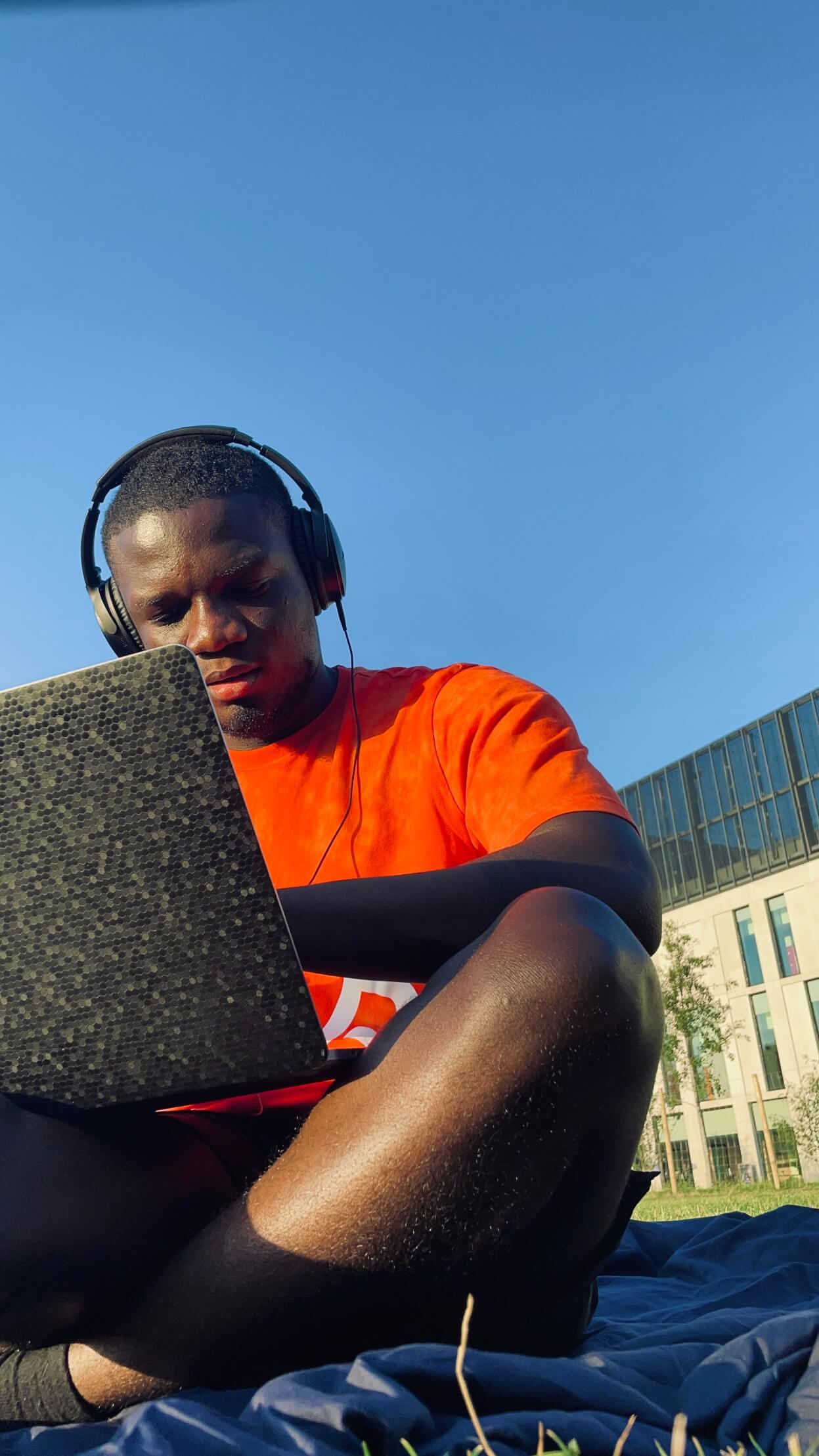 Source of Inspiration and Favourite Tools
I find inspiration on websites like Mobbin, Dribbble, and Designnotes.co and from the works of my heroes; Adewale Bobby, Joshua Oluwagbemiga, Damilola Marcus, Seyi Olusanya. I use Sketch, Zeplin, Principle for my designs.
On Use Of Social Media
Although I am no longer as active on social media as I was in the beginning and have since deleted my Facebook account, I cannot deny its influence. There's that possibility of finding employers on social media if one shows ones' work as well as the possibility of finding other peoples' work that one could learn from. There's that visibility attached to social media.
Currently, I am more on LinkedIn than on other platforms, it feels more structured.
On Community and Mentorship
I believe in stepping out and finding communities to learn in. In fact, you cannot get lucky in your house, opportunities will only come to those who put themselves out to receive them. I also encourage joining virtual communities especially with the coming of covid, so that people can showcase their talents and stand a chance to attract opportunities.
Something To Have Learned Earlier
I am very grateful for my growth as a designer but I wish I knew more about the business aspect of design. I wish I learned how to charge for jobs or approach design from a business perspective earlier because people aren't doing you a favour by employing you.  I think it all turned out for the best in the long run, because my focus was truly on learning and not on making money. Still, it would have been nice to know how to handle the business aspect of design.
(Not so) Controversial Design Opinion
One opinion that I find distasteful is the idea sold about how all designers need to know how to code. I believe that being a product designer doesn't require one to be a coding expert. I also believe that User research is another career on its own that does not necessarily have to be sold as a part of Product design.
Design Thinking
Design thinking for me simply means solving user problems with [the steps in any of the wider known] the design process.
Advice For Newcomers
My advice for anyone starting out is to listen to designers with more experience. It is easier to get a clear picture of what design truly is and not just what people consider it to be when one listens to those who design for a living. It is important that they find a way to distil what is important from what isn't and not just consume all forms of information they come across.
There are some basic skills to look out for too. I think a very undermined skill in the industry is actually working on visual design and user interface design. So, they should polish up on visual design skills. Visual design is both the user interface like prototyping, direction design, those kinds of things. 
It is important that they put a lot of effort into those things because it's harder to learn them later. It's like life as a normal person, wisdom and being able to discern stuff come as you get older, that sort of coming to you as you learn more, but like the finesse or whatever, those things don't come. For example, in football, learning when you are making decisions to see passes, the right passes, the kind of skill or whatever, or learning to not pass the ball, so you learn these things the more you play football. But raw speed or beating your marker and all those are things that you don't see in a thirty-seven-year-old footballer doing because they either don't have the agility or it's harder to do those things later. The same thing applies in design, you hardly ever see a 40-year-old designer doing some amazing type of things. 
So, understand like no colour theory, prototyping ease in, ease out, all kinds of stuff. Try to do them earlier. They should copy people, copy designs, just do as much as they can to make that a part of them.