I originally got into the university to study Electrical Engineering. Unfortunately, the department had some accreditation problems and my mates and I were advised to move to other departments. I decided to move to Architecture and, as unintentional as that decision was, I dare say that Architecture is the backbone of my design career.
Studying Architecture was a bit rough in the beginning because the class was already ahead of us and they knew what they were doing. We, the new guys, only joined in the 2nd year and had so much catching up to do. I knew I had to be serious if I wanted to make good grades, so, my strategy involved spending a lot of time in the studio; learning to draw plans and how to use the CAD software they were using. I was also blogging at the time and making a decent amount of money from Google AdSense. But I had this friend, with whom we left engineering together, that used to come around the studio. He was in the same faculty as I, but was studying Quantity Survey… he'd come around with his laptop and do some graphic designs and I was drawn to his work.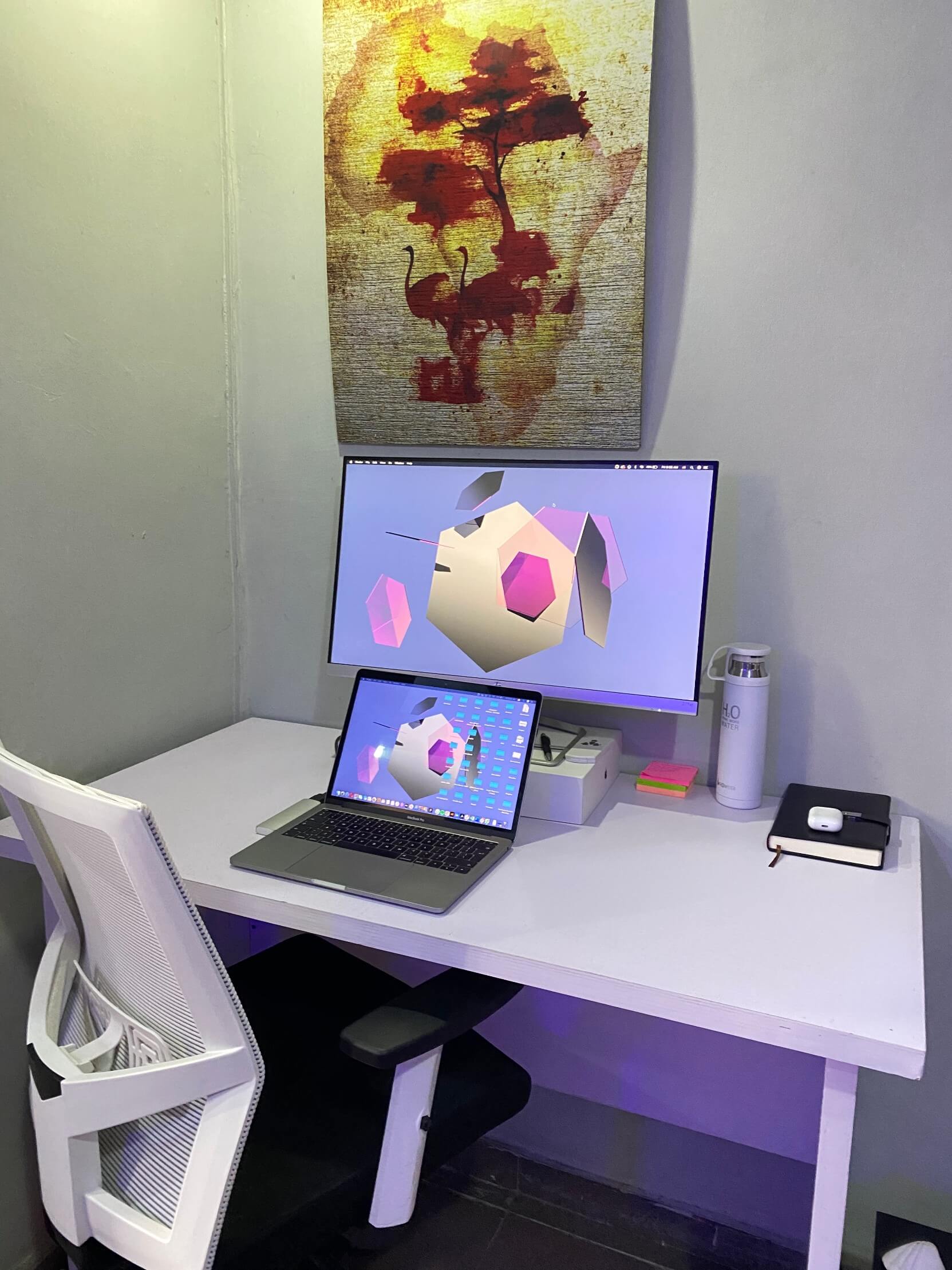 Transitioning Into Design
That friend of mine eventually switched to UI/UX when I was in my final year and started to post his works on Instagram. Maybe I could have learned from him then, but I was wrapping up with school, while he still had an extra year because Quantity Survey was a 5-year course in my school and it just didn't happen for us.
Que in service (NYSC) year and I saw that he was still posting UI/UX on his Instagram whereas, I had stopped blogging for some reason and service year was nearing an end. I started to get interested in UI/UX.
If I recall correctly, the NYSC passing out parade was October 18th of 2018 and October 19th was my birthday. So, it was on October 20th that I decided to start learning HTML. I learnt HTML for a week, learnt CSS the week after and realised that I understood what UI/UX was. I moved from Abeokuta where I served, to Lagos. I bought a plastic chair and table in my room and practised daily while trying to learn Figma. I remember doing those daily challenges; averaging about 10 designs in a week and posting on Instagram.
First Paid Job
I had a personal account on Instagram before learning Design, I deleted it. I wanted to start over and stay focused. With my new account, I followed so many designers. I also joined and followed designers on dribbble.
About 2 weeks into posting on Instagram, someone messaged me about doing a design. I was at Maryland, he was at Allen and he asked me to come over. He wanted a music app and already had the screens sketched. He offered me ₦50,000 just like that! And after that, some other guy messaged me for a two-week gig for ₦60,000.
Improving and Accepting Criticism
There's this thing we did while studying Architecture, where we had to present our works and have people criticize them; we call it 'the jury' and I think that helped me get used to taking feedback. So, I was always open to corrections and suggestions on how to be better and I consider myself my own biggest critic; I always scrutinize my works and obsess over how to make it better.
Coincidentally, I reconnected with that friend of mine from school at the time when another job offer came. My friend told me to charge above ₦3,000 per screen. I ended up charging ₦5,000 per screen and made over ₦400,000. I immediately registered for an online course because I really wanted to perfect my craft. I also took a course, 'Fundamental to UI/UX' on Coursera. It was all about getting better for me, and I am really glad that I reinvested in myself.
'Cashing Out' with Design
I'm a testimony of how passion can pay bills and change one's life. I have not looked back since embarking on this journey. I have established great relationships with clients that keep coming back; like the client who first paid me ₦400,000 and continues to send me jobs. I have also been paid in dollars, I remember receiving $750 for a job in 2019 and just thinking about how much my life had changed.
Early 2020, my friend spoke to me about Toptal and I gave it a shot. I passed the assessment and got in.
What a Typical Day is Like
I am a Muslim, so I wake up and pray in the morning, then go back to sleep. I get up again around 10 am or 11 am, then make something to make something to eat or step out to eat. And then I have a series of meetings and work on pending activities till about 7 pm before heading to the gym. I leave the gym about 10/11 pm, create a to-do list for the next day and then go to sleep around midnight.
Finding Inspiration + Design process
I start with a lot of research, I check similar products, competitors, and brands. Once I understand the project, the UX part of it is complete. Then I go to dribbble for UI even though I believe the designs there are not realistic, or functional. I hardly use Behance to be honest, it's not my thing. I sometimes check medium articles, I know people like to write about case studies of designs on medium and I just read about them, understand them and then use them. I always use Lapa ninja for websites. I use Awwwards also. This is how I get my inspiration.
Challenge
My biggest challenge is applying UX and the time it takes to just map out how the flows or processes work. But once I can get that sorted, I'm good to go. Another challenge is communication, especially with clients. It can get frustrating when they want one thing today and another, tomorrow.
I have learnt over time to explain to clients and present them with factual information on why the design has to be the way it is. Patiently listening to them, answering their questions and explaining the process to them, helps a lot.
This is also important when clients appear to not like the work done. That's when I ask them for specific areas they are dissatisfied with and try to make corrections. But sometimes, some clients demand for things that just won't work, or they keep on changing their minds about what they want and that is where I usually draw the line and drop the job.
On Mentorship and Community
I can't say that I had a mentor, I just followed people whose works I found interesting and tried to learn from them. But I understand the importance of mentorship and I will always advise that people to seek mentorship. This was why, in early 2020, I collaborated with a workspace in Lagos called Workstation to host a free bootcamp. It was held for two days, with myself and my friend from university as the facilitators. We had over 60 people turn up and I dare say, proudly too, that most of them or almost all of them have jobs. In fact, there was this particular group of friends that attended and now run some sort of agency on Upwork and they are top-rated… I have since then created a WhatsApp group for members from the group chat where I push articles and jobs and learning opportunities. I also started an agency, although it's still coming together.
I do these things because I understand the need for mentorship and community and these are just my way of paying it forward.
Keeping Up
Every morning I read one or two design articles on medium or any UX article or just be informed about the latest trends. I mean, as a designer you need to be aware of the latest trends. There will always be changes and one has to evolve. I also look at the works and lives of some of my design heroes, like Meng To & Sajon.co 
One thing I wish I paid more attention to is motion design and digital illustrations. I still don't know how to do them, I outsource this part of the work when I need the expertise.
Advice for 'New Bees'
I've noticed that people go into design and immediately want to get remote jobs abroad. My advice is to start small; take that ₦100,000 job and build from there. Get the experience and learn from smaller jobs as you go.
Also, they need to have the basic skills and know-how to use at least one tool, for me it was Figma. I'd also advise that they get comfortable with doing research so that they can stay informed.
I believe people should do a daily design challenge when starting out too, I think it helps to improve one's craft.
Lastly, I want people to know that everyone has their own race and their pace in this life. So, people starting out should not get too intimidated or overwhelmed by other people's success or progress. I think that's it!